Description
Power Grabba Combo Package 100Ah Lithium Battery Battery Box 20Amp DC-DC Charger
Buy as a package and save!!! - Receive Three Years Australia Wide Replacement Warranty
Power Grabba from No Bull Accessories has these three amazing products that will alow you to put together your portable power system fast and simply. All perfectly matched to provide you with a light weight powerful system that you can mount in your 4wd and remove it to take with you to those places your vehicle can't take you. As a combo package you will receive our Three Year Australia Wide Replacement Warranty on all items giving you total piece of mind. No Bull Accessories is Australia Owned and Operated and has been maunfacturing in Australia for over twenty five years. We stand behind our products and our customes to ensure 100% total satisfaction. The total system will weigh 18kg so it is easy to carry lift and move.
Your Package Includes:
A 100Ah Power Grabba Lithium Battery with Battery Box and a 20Amp DC-DC Charger with MPPT Solar Input. See more information below. See the full Battery Details by clicking here.
Lithium batteries have been around for many years now and have totally changed the way we use many electrical appliances. It's only recently though, that the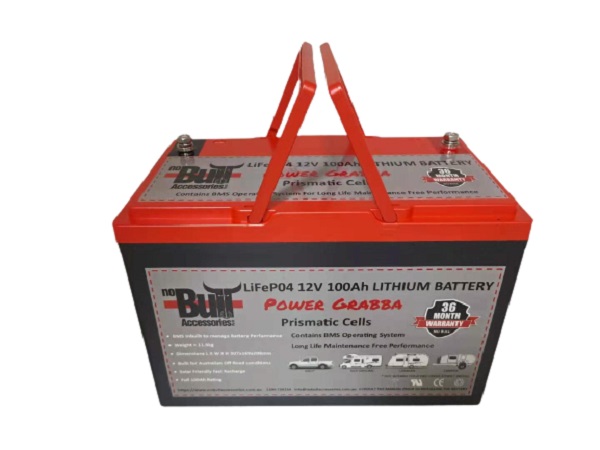 advantages of lithium battery technology have begun to be available to motorhomers, caravanners, boaters, campers, four wheel drivers and anyone who relies on 12V batteries for power.
The difference in performance between a lithium battery and a traditional lead-acid battery is so great that anyone who is serious about staying "off-grid" in their Caravan, Motorhome or Camper Trailer really has to consider installing one. It can only be a matter of time before lead-acid batteries for these vehicle types are consigned to the proverbial dustbin of history.
In addition, if you normally use a generator to charge a battery or operate 240V appliances, a LiFePO4 battery means that you probably won't need this item. This saves money, inconvenience, excess weight and the necessity to carry additional fuel.
Here are ten reasons why you should seriously consider installing a LiFePO4 battery in your Caravan, Motorhome, Camper or 4wd…..
You want to be able to spend as much time as possible "off-grid".
You want to run a coffee maker, hair dryer, microwave oven, toaster or any other 240V appliance when you're not on mains hook-up.
You need to use medical apparatus and need to be certain that it will function correctly when needed.
You'd rather use electrical energy than rely on LPG.
You want to save money by not having to pay for mains hook-up ever again.
You don't want to ever have to worry again about the lights, the TV or other 12V appliances going off because the battery "has died".
You want to save weight in your set up.
You've had enough of lead-acid batteries "leisure" batteries that only last a couple of years or so.
You're tired of having to check your batteries, top them up and keep them charged even when they're not being used.
And finally, because LiFePO4 batteries last so long, they can actually save you money in the long run
See the Full Battery Details

here.
Power Grabba Portable Battery Power Box:
Features:
The Power Grabba Battery Power Box is a must-have for your next camping trip, enabling you to keep the must-haves charged and ready to go at all times!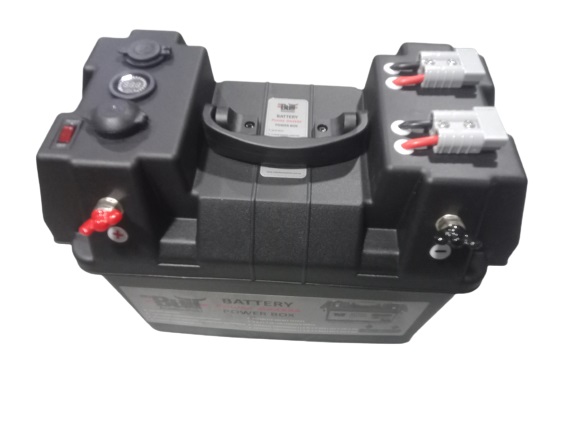 This battery box comes with a mounted cigarette socket, two USB ports and a handy condition indicator that shows how much juice you have left.
Make your Deep Cycle Lithium Batteries functional and you simply fit your Battery into the pre-wired box and you are ready to go.
Features a handy LED display to show your battery voltage.
Fitting Kit - includes Webbing Strap, Brackets & Bolts/Nuts.
Makes mounting a second battery in the cargo area of a caravan, motorhome, camper or 4wd easy with no fuse.. Suitable for most popular battery types and sizes.
Use the range of 12V adaptors included on the box and the battery box has anderson plugs so you will be able to easily recharge using a solar panel setup.
Act as a dual battery system to manage solar and in-vehicle charge.
See the full battery box details

here.
Specifications:
12V/15A Socket with Cover and Circuit Breaker (with reset button)1 x 5V/2.1A & 1 x 5V/1A USB Sockets with Cover and Overload Protection
Digital Voltage Meter (Range: DC6V-28V)
2 x 12V Battery Posts/Terminals
2 x 50A Connectors
Fitting Kit - includes Webbing Strap, Brackets & Bolts/Nuts
Inner Dimensions: 338 x 220 x 206mm
Outer Dimensions: 424 x 306 x 251mm
Not suitable for Starting Battery Application
Three Year Australia Wide Warranty
Power Grabba DC-DC Charges 20Amp :
20Amp DC to DC Battery Charger MPPT Solar LiFeP04 Lithium Compatible 12V Dual Battery System Kit Solar Input.
Designed to manage solar and alternator power inputs to charge an auxiliary (house) battery system. The system will preference solar, providing lower loads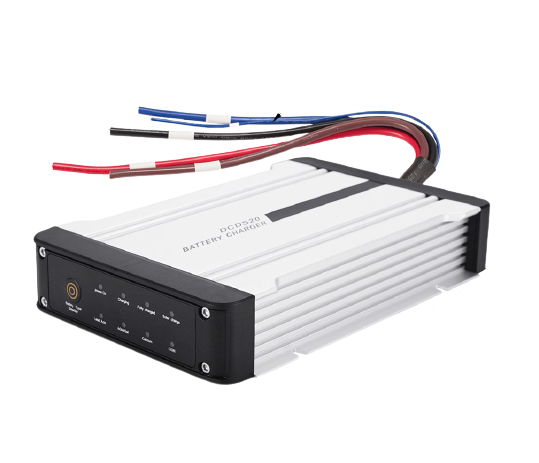 on your engine when solar is available. With automatic ignition detection enabled, the system will isolate the starting battery when the engine is off, preventing discharge of your critical starting battery. It's fully automatic, with a set-and-forget type operation.

The microprocessor controlled circuit keeps your battery in peak condition, automatically switching between six charging modes; Qualification, Recondition, Bulk, Absorption, Check, and Maintenance. Housed in a heavy-duty aluminium case with mounting bracket, and a front panel with charge status LEDs and push button to select between Lead acid, AGM, Calcium, GEL or LiFePO4 batteries.

It handles solar panels with 16 to 25V open circuit voltage, and includes over charge, short circuit, over temperature, reverse polarity, thermal overload, and solar input overload safety protection.
See the full charger details here.

Features:
Dual input - solar and/or alternator/car battery
20Amp max charging current (automatically controlled)
Six-stage Battery Charging
Supports Lead acid, AGM, Calcium, GEL or LiFePO4 batteries
Specifications:
Solar Panel Open Circuit Voltage: 16~25V max.
Rated Output Power: 13.5~15.4V @ 20A 40A
Output (Charge) Voltage:
AGM/GEL: 14.3V (Boost), 14.7V (Absorption), 13.5V (Float)
Lead acid: 14.0V (Boost), 14.4V (Absorption), 13.5V (Float)
Calcium: 15.0V (Boost), 15.4V (Absorption), 13.5V (Float)
LiFePO4: 14.0V (Boost), 14.4V (Absorption)
DC to DC Converter
Power Conversion and Transformation
Type of converter

or transformer

DC to DC
| | |
| --- | --- |
| Operating Temperature | -10°C-45°C |
Battery Charger
| | |
| --- | --- |
| Type of Batteries | Lead Acid,Lithium Ferrous Phosphate (LiFePO4),AGM |
Solar Charge Controllers and Regulators
| | |
| --- | --- |
| Max PV Open Circuit Voltage | 25V |
Specifications
| | |
| --- | --- |
| SKU | PG100AHCOMBO |
| Brand | Power Grabba Lithium Battery Products |
| Shipping Weight | 18.0000kg |
| Shipping Width | 0.270m |
| Shipping Height | 0.340m |
| Shipping Length | 0.440m |
| Shipping Cubic | 0.040392000m3 |
Reviews
Be The First To Review This Product!
Help other No Bull Accessories users shop smarter by writing reviews for products you have purchased.
---
We Also Recommend
---
Others Also Bought
---
More From This Category