Power Grabba Lithium Battery Products
Our Pow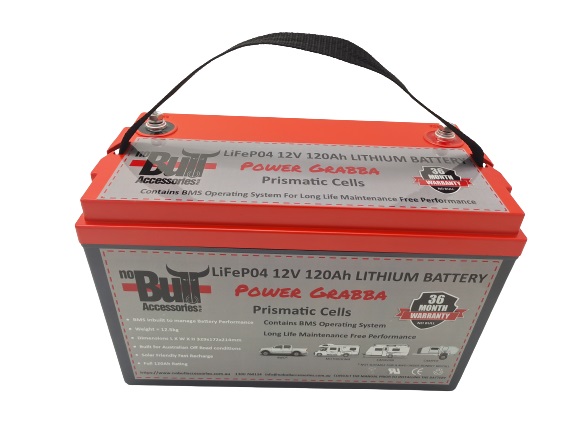 er Grabba LiFePO4 Lithium batteries are very safe and lightweight. They are recognised as the safest way to provide power anytime anywhere.
They stay cool when charging and discharging power and offer a stable and steady power supply until the last amp is drained. Using a battery meter allows you to see how much power you have before they need to be recharged.
Lithium Batteries For Campers, Caravans, Motor Homes And 4x4's
Lightweight, when compared to most options, weighing in at about 50% of AGM or lead-acid batteries of equal rating.
We have a variety of lithium batteries to suit all indoor and outdoor activities. Suitable for caravans, camper trailers, motor homes, 4x4's and just everyday camping. All can be used to recharge the many different electronic devices such as computers and mobile phones.
Our LiFePO4 batteries have cell balancing that increases the life span and the internal battery management system, BMS, controls the power going in and out. On average most people will see at least eight years of use before a noticeable decrease in power is observed.
The new 2021 Range of Power Grabba Lithium Batteries are entirely water and dust proof, boasting an IP67 rating, these batteries can be fully exposed to water and have the highest level of dust protection available. Few other batteries can make those claims in Australia today.
Made for the tough Australian conditions, they are fitted with Prismatic Cell Technology making them the ideal choice for travel on the long corrugated outback roads and can operate safely in temperatures up to 80c.
The Power Grabba 2021 range includes 100Ah – 120Ah - 150Ah – 200Ah.
These are lithium phosphate batteries, often referred to as LiFePO4 batteries and here are some of their advantages over traditional lead-acid batteries:
Voltage remains constant for much longer during discharge.

Much higher charging rate and so faster charging – varies according to the charging system used.

Can be discharged quickly without damaging the cells, making them ideal for use with inverters.

Can be discharged approximately 80% on average without damaging the battery.

Thousands of charging cycles compared to just a few hundred from a typical lead-acid battery.

Very low rate of self-discharge means they can be left unattended for months.

Zero maintenance required.

The shape of some models enables them to be installed in places where a lead-acid battery cannot.

Approximately 50% lighter than a lead-acid battery with a similar Ah rating.

Very safe in normal use with no toxic fumes or liquid and no risk of fire in normal use.

The ability to charge quickly from the vehicle's engine can remove the need for a generator or fuel cell.

Can be used in almost every situation where a lead-acid battery is being used however we do not recommend an under bonnet install.
Sufficient long lasting power is always best and at No Bull Accessories we have designed our Power Grabba Lithium Baattery range to deliver under all conditions. Trouble free, continious power and backed by our exclusive Three Year Australia Wide Warranty you will have confidence in your choice from a true Australian Family Owned and Operated Business.
Don't forget to check out our range of Power Grabba Accessories including Battery Boxes, DC-DC Chargers designed to enhance the performance of our battery range, Inverters from 2000 - 5000 Watt and our very clever range of Jump Starters and Power Packs.
---