No Bull Accessories Launches Gift Vouchers To help combat huge Christmas rush for gifts
Date Posted:12 December 2019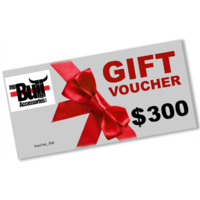 Today the Management of No Bull Accessories has announced the release of a series of Gift Vouchers now available to purchase through their online 4x4 accessory store. Released in time for the Gift Giving Season the Vouchers are available in $50, $100, $200, $300, $400 and $500.
These will be a perfect Gift Alternative for those who are concerned about product delivery delays and are not able to order a product from our range because of lack of knowledge of the vehicle details.
These Gift Vouchers are available online 24/7 and are despatched either to you or to the recipients inbox. You can also send a personal message during the checkout process with the voucher.
All Vouchers are sent within thirty minutes of the order being received allowing for any really last minute gifts.
The Voucher is valid for three years and can be used online at any time. Your special person will love getting a gift voucher from No Bull Accessories and love selecting a gift from the range of products including Sandgrabba Floor Mats, Trap Mats in Carpet, Sungrabba Dash Mats, Moulded Loop and Plush Pile Car and 4wd Carpets, Moulded PVC Flooring. All these products cover most makes and models of Cars, Commercials, 4wd and 4X4.
---
Leave a comment